Welcome for a review of the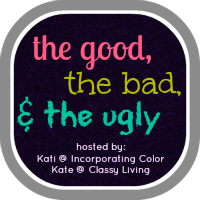 in the life of Juls of Life, Spirit, & Sparkle
GOOD:
We started our week with the joint ordination of our friend B&A. It was a blessing to be able to attend & process with so many other leaders in the church. I do believe I was maybe the only Diaconal Ministry candidate there. I put on my alb & said I really needed a
Diaconal Ministry
cross & a pastor standing near by said, "A Diaconal cross?!" By george, we're not all pastors! Ha! Our week continued on with working several shifts, packing boxes, & doing a little this or that to enjoy life & not go broke. We finally made it to the Farmer's Market after not going for several weeks. So we've got some yummy produce to consume. We also splurged on lunch at
Key's Cafe
for lunch & shared a
Monte Cristo
with onion rings. I had never had a Monte Cristo before & boy was it yummy! The onion rings were great too & we got a piece of their house cake to go. We had been hoping to have this cake on special occasions since our wedding, but when your mom offers to bake, you don't turn her down. We totally suggest Key's Cake for any special event cake. We enjoyed ours by the shores of
Lake Josephine.
BAD: We're packing & we don't know where we're going! While it's exciting, it's not fun. Thankfully we had the thought to pack up our office, which is the size of a large walk-in closet, first, so that we could put boxes in there & out of the way.

UGLY: Yet again, I urge you to check your news & then look for signs of hope.

Coming up: This week we'll be packing more boxes, working a few shifts, having a cook-out with friends, visiting camp friends, & celebrating the marriage of B&E. Let the adventures continue!

WORDs to dwell in: Luke 10:25-37 The Good Samaritan. In what ways can & do we show mercy to the oppressed in our community & world?