It's Palm Sunday! The church nerd inside me is fully soaking up all the Holy Week festivities this week.
Today I'm linking up again with
Kate
&
Kati
for the
GOOD, BAD, & UGLY
to cover the last week & move into the week ahead. If you didn't check out their blogs last week, take a few minutes & enjoy life with some other bloggers at
Incorporating Color
&
Classy Living
.
the GOOD:
Life is good, though crazy busy as I thrive living in the fast lane. Remembering back more than a day ago is challenging though when you live in the fast lane. I know I had lots of meetings & appointments this last week. So I thrived in networking & collaborating with others. I also participated in
Humble Walk's
monthly
Beer & Hymns
finally! It was splendid, good times & I finally got to officially meet the talented
Rachel Kurtz
& reunite with a few other youth & family ministry folk that I don't see too often like
Tay Wilson
. Tuesday Z & I went to
Anchor Fish & Chips
to meet up with some friends that I hadn't seen in years. We got our food & headed over to
Dangerous Man Brewery
for some beer & soda. Friday night was the first of several
SENIOR FUN
events & this one just happened to be my event. We focused on a family friendly event with the movie
Happy Feet
, popcorn, root-beer floats, & photos with me in a penguin suit (thanks to AButler!). Saturday I spent all day being certified, with about 50 others, as
Zumba
Basic 1 Instructors. I'll let yall know when I'm able to join
the ZIN
program & start teaching! This morning we went to worship at
St. Anthony Park Lutheran
& I was reunited with a friend from working @
Camp Wapo
& then came home to clean up our drying laundry for Rikki from
Thirsty, Nerdy, Cats
& Justin to visit. A couple of weeks ago I won a giveaway that Rikki did on her blog & it gave us a reason to see each other for the first time since 2008. We originally met through
Spoke Folk
years ago & have kept in touch through blogging & facebook. Here's some photos of the good stuff!
3 Spoke Folkers & their spouses
Z kissing his penguin wife!
RR, Me, J (our instructor), & SB at Zumba Instructor Training
Rikki & I! So blessed by friendships that withstand time & distance
the BAD: My thesis is a thesis & a word that I have dreaded for years now. I have a cover sheet, but that's about it. Thankfully I have till April 20th & the research work is pretty much done since I'm taking my Diaconal Ministry project & editing it. It's a good thing I'm passionate about Children, Youth, & Family Ministry & Pneumatology (the study of the Holy Spirit)
the UGLY: Two chiropractor appointments, a massage therapy session, some kenesio tape, & two slips that ended me scooting across the ground till I could find dry ground to stabilize myself on have all been helping to better or worsen my wacky muscle & joint issues. I have two more chiro & 2 more massage appointments this week & I am really hopeful that will do magic because insurance won't cover these treatments for long. Z told me I'm not allowed to talk about being old till I'm 65, so I have a few years to go!
coming up this week
: I WILL WRITE 10 PAGES OF MY THESIS! This is my pledge in front of yall, to myself. A few meetings of this or that, classes through Wednesday, Holy Week festivities with the communities of
Humble Walk
&
St. Philip's Lutheran
(Z's home congregation) & Easter brunch with Dad & Mom N. Here's to productivity & a piece of holiday break!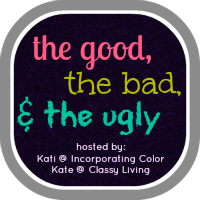 What was GOOD, BAD, &/or UGLY about your week?