Sunday Snippits with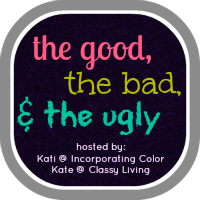 GOOD:
Fall is here! Not only by the cooler weather, but the smells & the changing of the leaves & the fact that the calendar says so, FALL has arrived. I love Fall! This last week is a bit of a blurr. Yet again it was spent doing more networking & community building. Two things that I really enjoy, so it doesn't seem like work. Early in the week I got to connect with some of my family & congratulate my 16 y/o cousin for his 62 YARD TOUCHDOWN! He's a sophomore & gets to occasionally play on the Varsity team & a few games ago now, he had one of the best moves of his football career. This makes me excited to be able to make it to one or two of his future games before he graduates & goes off to college. We also go to take the short road-trip to
Camp Michi-Lu-Ca
to see the beautiful land & get to know our new colleagues & friends in ministry A,D, & I. Yesterday, in our attempts to get to know more about town, we decided to go for dinner at
This Old House
. While they claim to have the best pizza in town, we decided we liked
Alcocks
better. The motif was fun & we'll prolly go back for something else on the menu, but not the pizza.
BAD:
A few weeks ago I shared about
this cycling accident
& added to a number of prayer lists. I only sort of knew the couple, but know several people who were quite close with them. Both of them were working in specialized ministry & had a great way of bringing joy to those around them. While Rob passed away on the scene of the accident, Hilary had been on life support until a couple of days ago when the family made the hard to decision to let her body do what it would & join the glory of God in heaven. My heart aches for their family & friends, the church that she worked at & the cycling community who had come to know them & their energy for safe cycling.
UGLY: Last week, I said to turn on the news. Well this week that proves true again! This morning before church, while I was trying to think of what to share with yall, the news was about the mall massacre in Kenya, the potential of the US government shutting down, people fighting about healthcare, & more death in Palestine.
so I turned to the WORD: & read Luke 16:1-13 (the Gospel lesson today for those who follow the Revised Common Lectionary) which then also threw me for a little confusion. Check out, focus on the last two or three sentences & tell me what God's saying to you.
COMING UP
: Next weekend we get to go on a vacay back to the beautiful state of MN to not only hang out with family (from IN, MD, MN, & AZ!) but for Z's ordination as a pastor in the
ELCA
. I already have plans to go to
Target
&
Caribou Coffee
. I'll catch up with Sunday Snippits after all the festivities & travels are over.