Heya friends, it's late, so we're gonna keep it short & simple with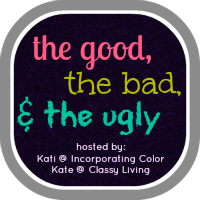 GOOD: Life is progressing forward & more boxes are being packed! This weekend we traveled to SD to visit with friends I hadn't seen in 9 Summers & to celebrate the wedding of B&E. It was so great to see the DG family & meet their little ones. It was also really wonderful to celebrate with B&E & enjoy time with good friends that have already moved to their first calls. While they've only been gone for a couple of weeks, it seems much longer. Let' just say there was squealing from multiple people when we all saw each other.
BAD: Life is still up in the air.
UGLY: Negativity is too easy to focus on, so skipping over this topic. Plus, if you haven't noticed, it's hard for me to mention the ugly most weeks.
WORDs to dwell in: Ephesians 4 - we are created & called to be one
Coming up: My final info desk shift is this week on what would have been my Mammaw's 100th b-day. More packing, more figuring out life.