It's never too late in the day for
Sunday Snippits,
is it?
This week we're back with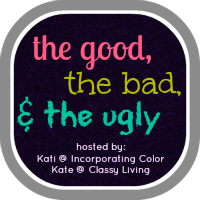 GOOD:
Last Tuesday I was officially released from my care following the car accident I was in a few months ago! No more constant appointments. While they were massage & chiropractor related, the scheduling got a little crazy. Thursday we had our friends B&M BR over for dinner after talking about it all school year. We made a delicious
bruschetta chicken
with garlic red mashed potatoes & sautéed kale. Then we sat around the table & purposely bruised our peaches so that they were juicy enough to make dessert (impromptu cobbler). The BRs are a true blessing to Z & I in so many ways. B is a phenomenal artist & M is pursuing her phd in the Fall. The best quote of the night was, "That Jesus guy, he just keeps reappearing!" Friday Z & I got up early to celebrate National Donut Day, then worked for a few hours, then headed to WI to tour
the 45th Parallel Distillery
. This was a Groupon Christmas gift that we were finally able to use. Lesson of the day, Scotland is more hospitable. Some things just shouldn't be tried on their own (like vodka, gin, or aquavit). Saturday we met up with friends from
Youth Encounter
that I hadn't seen in several years & picnicked at the
Minneapolis Sculpture Garden
. It was lovely & our friend RR convinced us to try cow tongue tacos! To cap off the day Z & I kidsat WOK 4 other kids. It was quite the party with pizza & finger-paint & sugar!
BAD: This seems lame, but the weather. Yeah, this isn't Spring or Summer. It's a wet chilly mess!
UGLY: Aquavit & Horseradish Vodka (might be good in a bloody mary if that's your drink).
COMING UP: This week started out nicely with church service & lunch with Ma & Pa N. They wanted to celebrate Z's bday with us before we left on vacation (we leave on Z's bday). With that in mind there will be Tuesday Tea Time & then a brief hiatus while we're on vacation. I'll resume with a Wednesday or Thursday Surprise!