Welcome to Sunday Snippits with a review of my week in...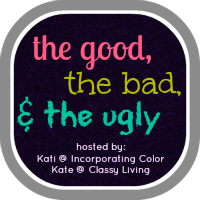 ...
GOOD: This last week we did a LOT of cooking with fresh produce. Apple oatmeal in the crock pot, egg veggie wild rice dish, butternut squash apple cider soup, ciabatta bread, & sausage wild rice veggies & mushroom soup hot dish. This last week is a blur other than that. It was good, it was busy, & it went by fast. Thursday evening was the annual Spaghetti Dinner & silent auction Friday Ma & Pa N came in from MN for the weekend & Saturday Ma & Pa P joined in the party from IN. Saturday we spent the day showing off Che-boo-boo & spent some time in Mackinaw City too. Today was a busy morning with visiting from camp & now we're all just "resting."
BAD: I don't remember much about the blur of this last week. Too much going on around me!
UGLY: I don't have anything to contribute to this. Mer mer!
Coming up: Ma & Pa P are here till Friday morning, so there's a little this & that to get done or take part in this week with my ecourse or a few business things & a whole lot O fun!!!
WORD: Luke 17:11-19 & Lepers. I've only read stories about people working with people who have leprosy. It makes you think about proclaiming praise for the little things in life & befriending the visually unappealing - for whatever reason to each individual - & being the church with them.