Happy Sunday Funday! It's Sunday Snippits with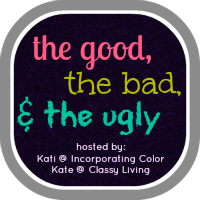 GOOD:
It's hard to believe it's already been a week since Z's ordination & family time in MN. Monday kicked off the week with some networking with
Dawn Trautman
- a Life Coach who I learned about a few years ago at the
Youth Ministry Extravaganza
. I will be participating in her online course & possibly eventually pursing becoming a Life Coach myself! Tuesday was one great surprise & distraction after another with a few Skype dates & a Starbucks date with some friends that were in the area. And an added adventure of the "Check Engine" light coming on in Mandela. Something about back-up in the catalytic converter that
Perkins Performance
- aka my brother - replaced a few years ago. Thankfully that was an easy fix & we found a new "Ray" (our Toyota guy in MN). Total props to
Fein's Auto!
Wednesday brought another wonderful surprise with visitors from MN who took us to lunch at
The Step Inn
- a new experience for all of us. Thursday we got out on the local trail for a bike ride before the rain started coming - & has kept coming - & Friday & Saturday I worked as a
wedding coordinator
for my first wedding in the area. Congrats to R&J!
BAD: The government....yeah....it's easier to not follow all the news some days.
UGLY: Humanity, sorry, but I'm stuck on the government shutdown.
WORD:
While I get my daily scripture readings from
ELCA.org
, I've also been slowly reading
Anne Lamott's
Help, Thanks, Wow
with Z. Mucho thanks to KE & Bert for the gift. It is one that I could read over & over & still be learning how to pray the words & actions of Help, Thanks, Wow.
Coming up:
Big Picture, Big Purpose
, Zumba choreographing, Getting out into the community more, AND welcoming Ma & Pa N. to Che-boo-boo on Friday AND Ma & Pa P. on Saturday!