Happy Sunday Snippits! I'm here with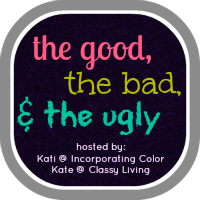 GOOD:
Last week was a whirlwind! Interviews are going well, packing is stacking up in our apartment, & friends seem to be abounding with good news of where life is taking them these days. We have a new niece! Baby L Nelson is doing well, as is mommy, daddy, & big sister C. I can't wait to meet her & see everybody else. Boo to distance! On Wednesday, I had my last info desk shift last , so that was a relief. It was a great student job, but I'm ready to move forward. Z & I also decided we'd be moving in with Pa & Ma P in early August, so that we could attend
Fun Fest
& my 10 year class reunion. Our GroupLife group from
Jacobs Well Minneapolis
got together Wednesday as well & caught up, which is always good times. Then Saturday was the end of the year bash celebrating RR's birthday & going away. You can pick up on her story & follow her adventures at
One Story Catcher
. There was lots of good food, great people, & fun things like tricycle races & using up old firecrackers.
BAD: I'm an emotional eater! Stress & anxiety is high with change, which brings a variety of emotions & occasional tears. Since we're moving to Hoosierland, that means we'll be moving twice in about a month of each other.
UGLY: MN has been unseasonably cold! It was slightly welcomed after the extreme heat, but still not totally since it's July. Also, clutter is part of moving & I don't do well in clutter.
WORDs to dwell on: Mark 4:35 Jesus Calms a Storm. My friend & colleague MM preached on this scripture this morning. May we cling to the promise that Jesus is with us always.
Coming up: Today we made it to church & then I came home to attend a baby shower for some seminary friends. It was fun & African Safari themed & I won a plant! Now, let's hope I can keep it alive. More packing, helping friends move, a few last time appointments, massages, & Pa N's birthday!