It's Sunday Snippits time! My mind is whirling after 1 too many tastes of caffeinated beverages in the first half of the day. Oops!
And we're back linking up with the ladies of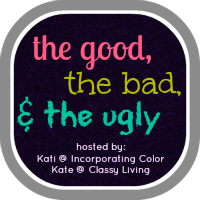 GOOD:
Life is pretty easy going right now. This is a blessing after the whirlwind of graduate school, meeting my best-friend/husband, & moving once a year for the last 10 years. We've been enjoying time with friends & working on little tasks we've been meaning to do for months or even years. My most recent debate (with myself) is if I need a hardcopy address book or if I can fully rely on electronics. After this weekend of colossal summer storms & no internet, I've decided a hardcopy is still a good thing Thankfully, I have a blank address book that I've kept for the last 10 years! It was a high-school graduation gift. Another fun good thing this last week was playing bocce ball with friends before the 2nd massive storm & the next day enjoying a long walk to the fair grounds for the
Back to the 50's car show
. This was possibly our last chance of having deep-fried cheese curds that are fresh & delicious from the MN fair grounds. We also enjoyed a raspberry & pineapple twist
dolewhip
cone!
BAD: We don't have internet due to the damage of the storms. We're currently sitting in a Caribou & even their internet isn't reliable due to everybody else doing the same thing we're doing. Our friends are slowly, but surely packing up their apartments & moving for first calls & other adventures. The fear of loneliness is a little too real right now.
UGLY: Summer has come roaring in with high winds, torrential rains, & fiery lightening bolts. There are hundreds of thousands of people without power & lots of other damage. Our car was darn close to having a giant old pine tree right on top of it. Campus was flooding & Z's phones (he was on call for head resident) were blowing up. It was chaos!
Coming Up:
This week will be an adventure of everything getting cleaned up & restored. We've got a lot of fun, but sad events with friends as they are preparing to move to the next thing. Tomorrow night a
St. Paul Saints
game!