Sunday Snippts!
I missed Friday Foto Fun due to finishing up all my work for grad-school. But the good news is, I am done! I do have to attend class tomorrow & Tuesday, but my assignments are done.
So we'll resume with the Good, the Bad, & the Ugly to get us back on track.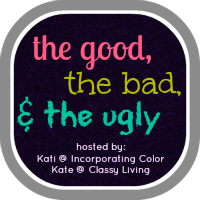 GOOD:
Last Sunday KJ got ordained as a pastor in the ELCA. It was quite the celebration! Monday I helped lead chapel with other Word & Service leaders of the ELCA. It was a great way to show our presence on campus. I was also awarded, along with 3 other classmates, a student leadership award. It was fun & made me feel like I had something to show mom. So I sent her a picture on her phone since we don't live even down the street from each other. Thursday I was the student host for
The Evidence of Hope
documentary at
Luther Sem
. It's a great documentary with some profound statements of how we should approach our lives.
Definitely worth checking out
. Saturday I was up bright & early to be ready to defend my thesis at 8am. Then I got to spend the whole day with my classmates & listen to their thesis defense. The week came to a close with a fun bachelorette outing for BLF to
Shamrock's Irish Nook
. We rocked out with
the Brat Pack Radio Supershow
.
Check 'em out
if you're into '80's cover music.
BAD: I missed the coffee shop open mic night that I was supposed to read a few pieces of my poetry at. Yes, I write poetry on occasion, but seriously, the Spirit has to move me. I got stuck in traffic going to get groceries & couldn't be everywhere I wanted to be. I also missed my Friday Foto blog.
UGLY: While hanging with WOK, he wiped out & got a big bloody lip. Thankfully he is alright & so is my shirt that he pressed his bloody lip against. This was all while it was snowing Friday morning, later that day it was sleeting, then it rained & melted all the snow. Crazy Spring weather!
Coming up: This week is busy with 2 more classes, some meetings, & some fun. Graduation is 2 weeks from today! Happy May!